Family trip to Portugal and Netherlands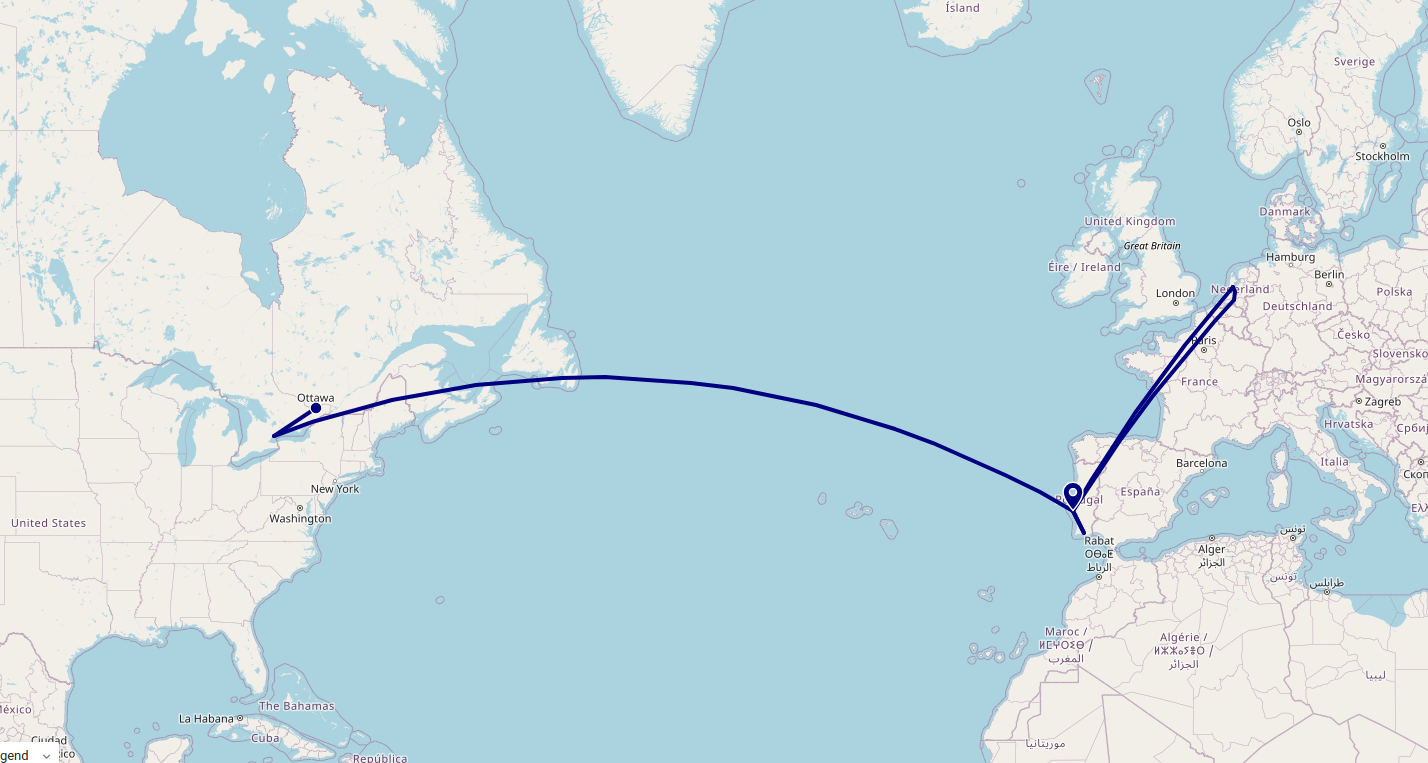 As a family, we had not made a significant trip since going to Florida in Jan 2019. We decided in May that this was our year! I wanted to record some of the logistical stuff we tried since it might be helpful to others attempting similar travel.
The Actual Trip
Ashley likes beaches/hot places. I enjoy urban biking. We decided that Lisbon, Albufeira, and the Netherlands would fit the bill for everyone.
Flying there
Flying across six time zones overnight SUCKS. I don't sleep well on planes (sO mUCh sTiMULatIoN for my ADHD brain!). Thankfully my wife and the kids got around 3+ hours. I got.. 45 minutes. Nothing coffee can't fix!
Lisbon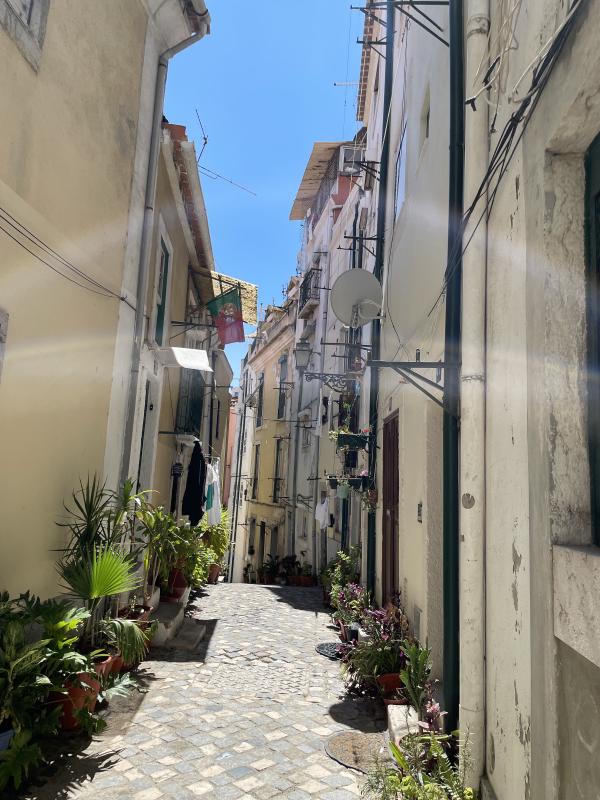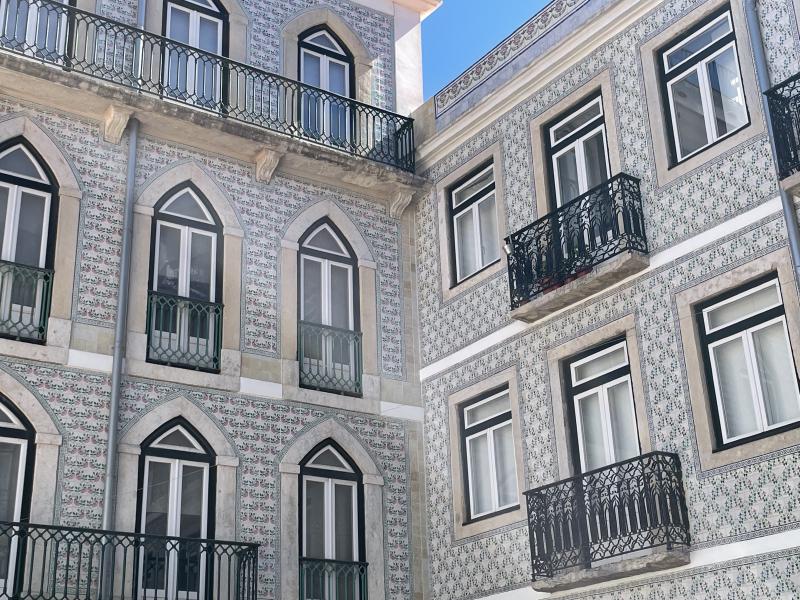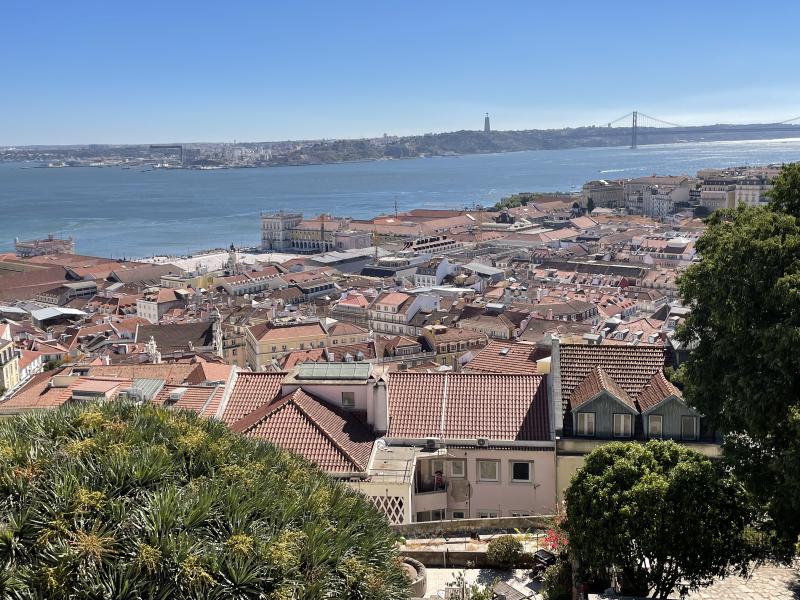 The colours and the architecture in the city are really something special. While the areas we visited were centuries old, the houses looked like they had been freshly painted in the past several years. There are plants everywhere! It's a cozy city with probably the most friendly people I've met!
Most of the recommendations for stuff to see came from:
Tripadvisor
Google Maps
Surprisingly: Uber drivers!
Some highlights:
Castle of St. Jorge (Castle in the city of Lisbon itself)
Riding the funicular
Ceramic shopping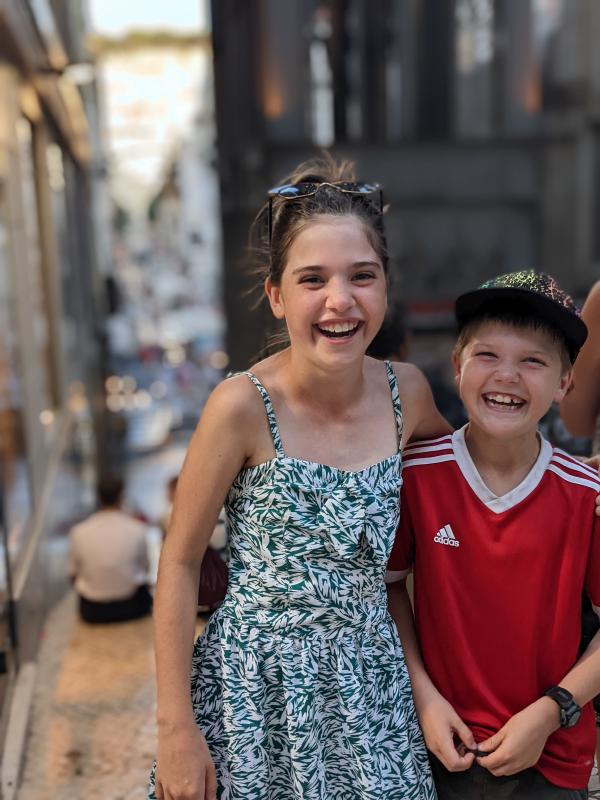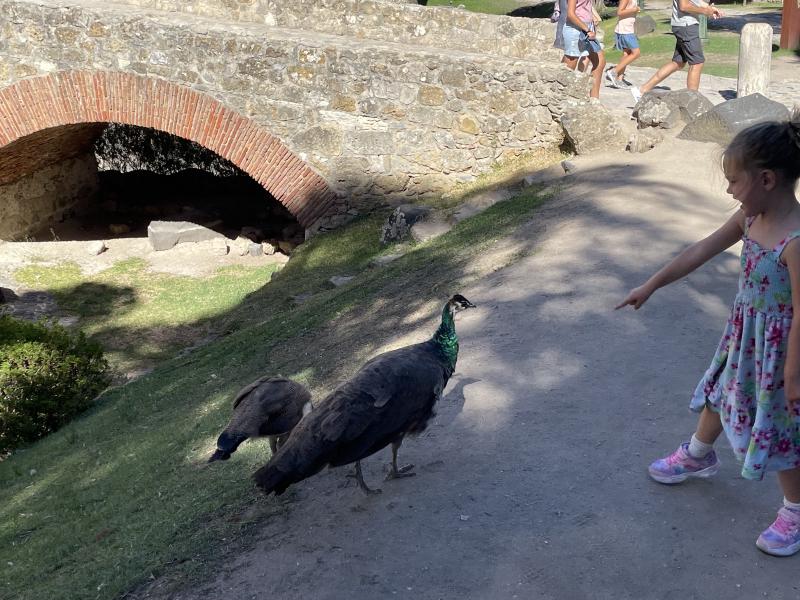 the Oceanário aquarium (one of the top aquariums in Europe)
HippoTrip amphibious tour (A bus that also is a boat! It was a missed opportunity to call it an amphibus but who am I to say?)
Albufeira
We took the three-hour intercity train between Lisbon and "The Algarve" (southern coast) beach town of Albufeira on the south.
We were immediately stuck how much this was a party and tourist town with so many English and Americans walking about. We went to two different beaches over the two days. I'm not much for direct sun (or water) so we rented two loungers and an umbrella for the day (15 euros) and I sat and read Good Strategy Bad Strategy for the majority of the day. Everyone was happy.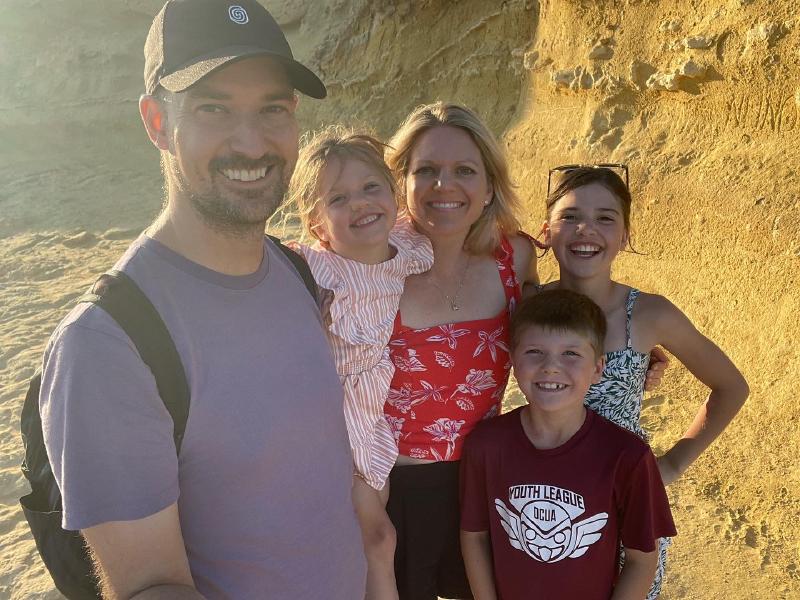 Amsterdam/Utretch
We took the train back to Lisbon, got our luggage picked up (Luggit win!) and took the three hour flight to Amsterdam.
Highlights:
Hanging with Greg, a former colleague from Zapier. As luck would have it, he happened to be leaving the country in two days later, after being there for 10 years!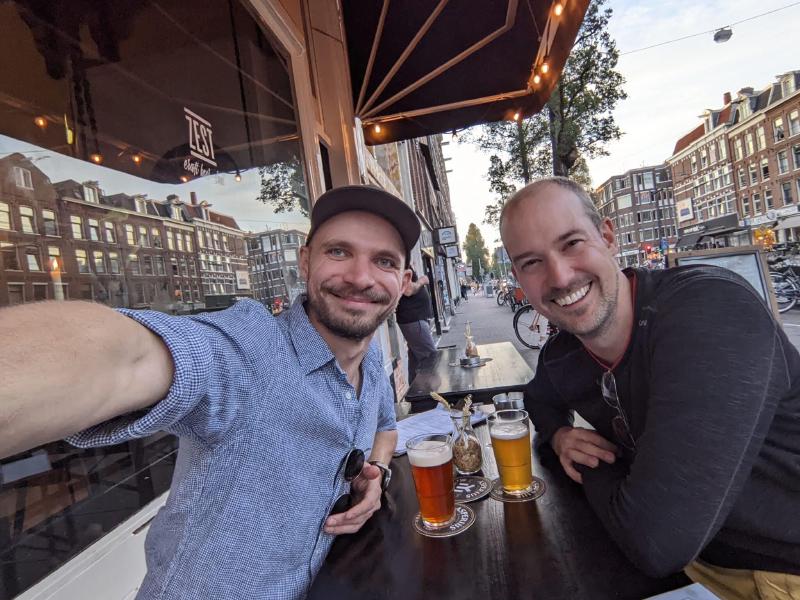 Eating at FoodHallen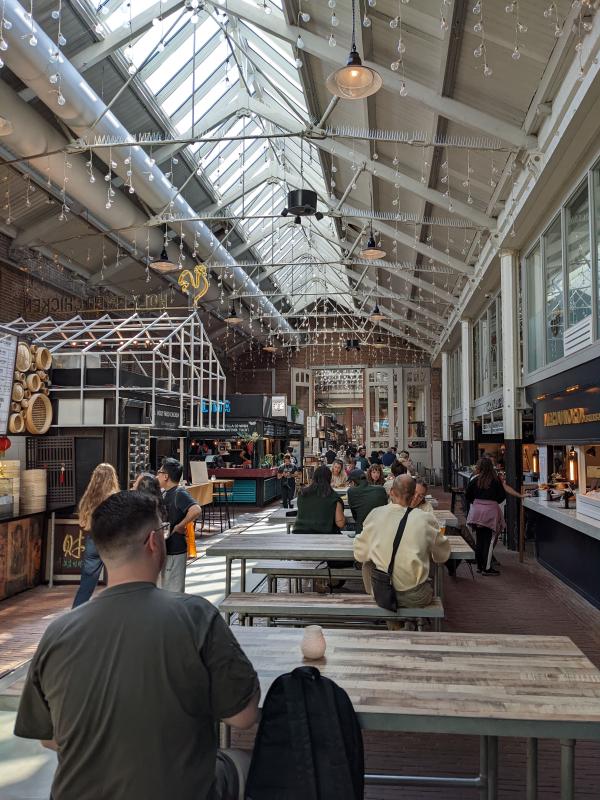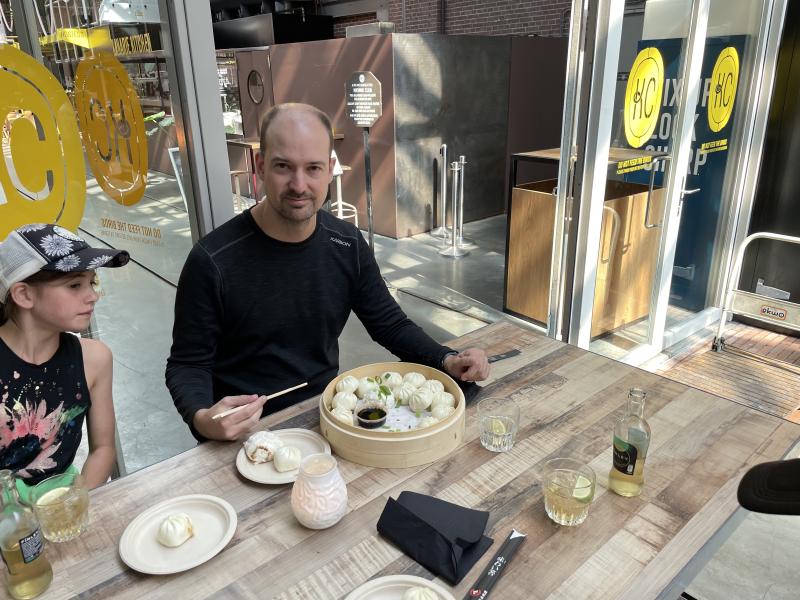 My son playing a pickup soccer football game with a local kid.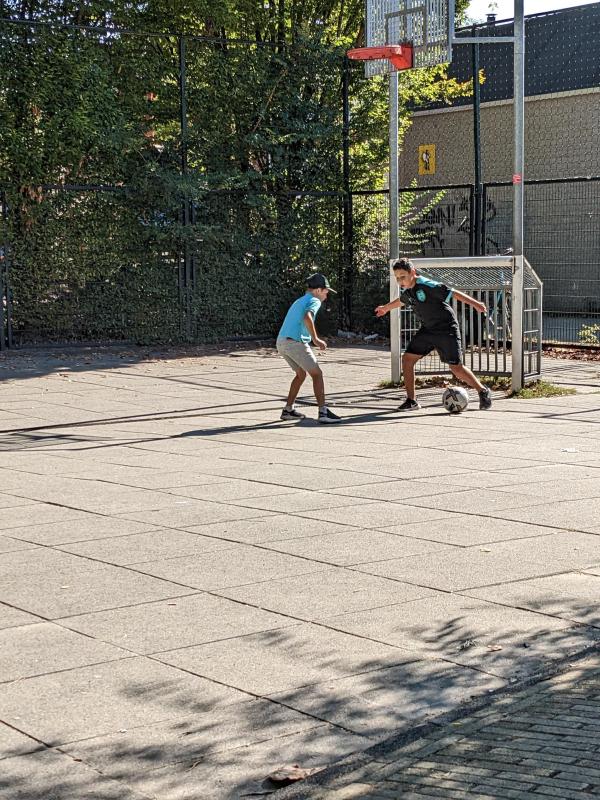 One hour Canal boat tour
Biking from Utrecht to Kasteel de Haar (My personal trip highlight)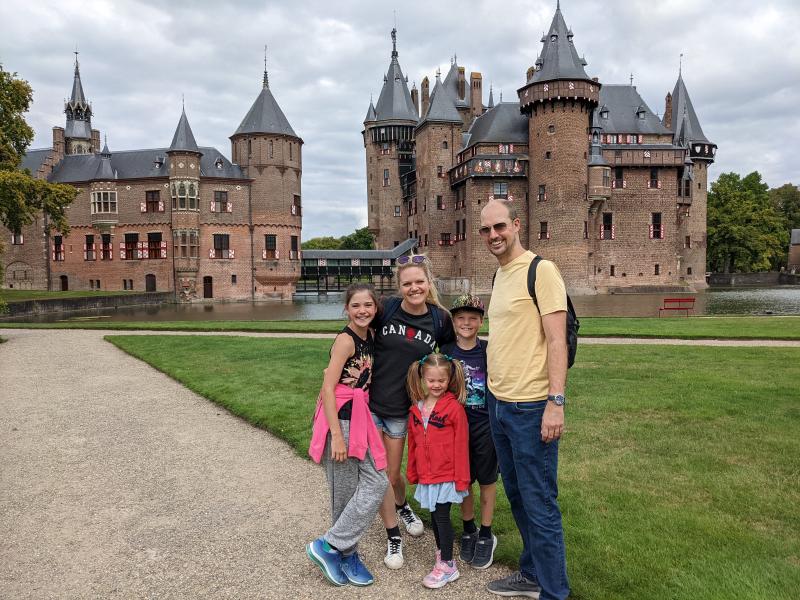 Efteling
None of us in the family are big rollercoaster people. Before our trip, we caught wind of Efteling, a whimsical theme park not far from Amsterdam. It was the most peaceful themepark I've ever been to:
Greenspaces everywhere
The rollercoasters aren't too intense, so it doesn't attract thrill seekers.
Calming music played around the park.
It was great! We stayed onsite at the hotel. This was pretty good value considering one night would give you access to the park the day before and after your stay. Nice!
Bonus: Trains cancelled in all of the Netherlands
The Netherlands has a reputation for having excellent public transit. When getting to Utrecht, the train was painless. When coming home from Efteling, checked the times for the trains back to Amsterdam. We were shocked to see that all the trains in ALL of the Netherlands were cancelled due to a strike. Hired cars were booked, no buses were running, and we were stranded. I reached out to a friend I was getting a beer with that night about our situation, how I probably wouldn't get to connect with him and if he had ideas how we could get home. He very generously rented a van, drove to pick us up and brought us into the city. Greg, you saved my sanity and probably hundreds of euros in hotel costs.
Travel Optimization and Hacks
Carry-on Only
While I'm not a minimalist, I like to have options:
to not carry stuff with my hands (backpack!)
to leave the airport without waiting for bags
to access my luggage on the airplane
It was easy to convince the family of these benefits. It was harder to convince them to pack fewer clothes, do laundry on the trip, and "not pack our fears" (preparing for every unlikely event).
Each person ended up with one carry-on and one backpack. While still a lot, less than most families we saw, I think we did okay.
Storing Luggage
While carry-ons were free with the international Air Canada flight, most European discount airlines charge an arm and a leg for anything beyond a personal item (like a purse or a small backpack).
When travelling between Amsterdam and Portugal on Vueling (a discount airline), it was an additional 40 euros PER bag EACH way. On top of that, we decided we could consolidate clothes into only three checked bags for the few days we were in the other country. Bonus: We have less baggage to carry around with us.
I did some digging around to figure out how we could store them, but most services are either: one for a day or two or inconveniently located.
Thankfully, we found this unique one called Luggit that picks up and drops off the baggage at scheduled times and places. We got our luggage picked up at the train station, and had it delivered to our Airbnb the day before we flew out. Awesome service!
Our Luggit hero Victor: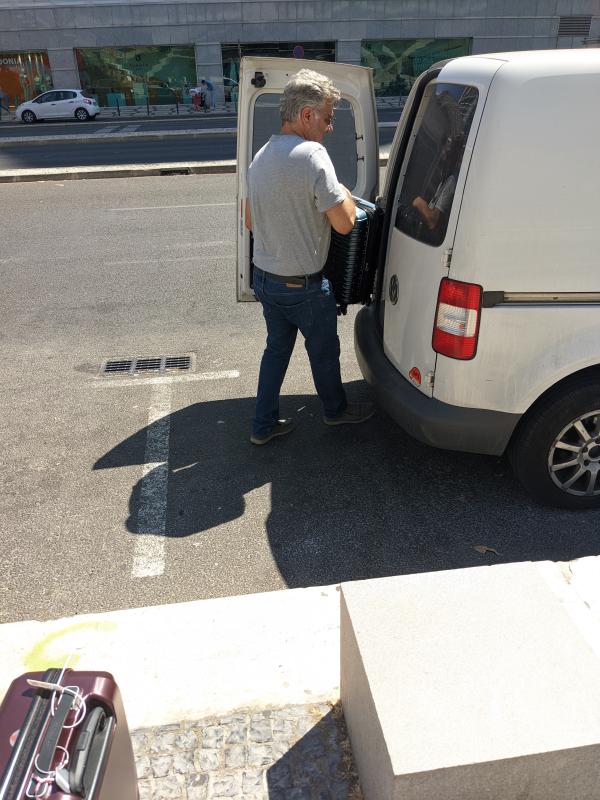 Using Wise to save on foreign currency fees
Before we left, I found out our Visa card charges an extra 2.5% commission in currency exchanges. That means for every $1000 spent in Euros, we would be charged an additional $25 in commission. While not the worst thing in the world. We can do better. Optimization time!!!
For my business, I use wise.com since the conversion fees are 1/10 the cost of the banks here in Canada. A few years ago, Wise came out with physical credit cards that can also be added to Apple/Android pay. I used my personal Wise account, got another credit card which came a few days later.
Whenever we used the credit card, Wise is smart (wise?) enough to know what the native currency is and convert into that currency in real time regardless of what currency is held in the Wise account. All I had to do was refill my Wise account when it was running low.
Bonus: Zero fees for using ATMs for pulling out cash internationally from Wise.
Note: Yes, I could have received additional points by putting in on Visa, but it would still be worth less money and I can realize those savings now, vs in a few months.
Finding 2+ bedroom accommodations
There are five of us in our family: Two adults and three kids under 10. We learned on a different trip, that having the kids and adults in separate sleeping spaces is essential for us all to recharge. if only for my wife and I feel like we aren't just child managers and logistical coordinators.
Hotels are too expensive to have multiple rooms. AirBnBs are no longer the cheaper-than-hotels alternative than they once were. In most cases, they are the same price or even more expensive. For this trip, we mainly booked AirBnBs because they:
Often have a washer/dryer on site for us to do some laundry.
Have multiple rooms
Gives us more options for proximity to areas where we want to be.
Overall, it worked out pretty well!
Not Moving Around Too Much
A big energy suck was moving between cities/accommodations. Some of our happiest days happened to be ones where we stayed put, and had the flexibility to go back to the hotel as needed. I would try to optimize this for the next trip as much as possible.
Google Maps Saved Places for Coordination
My wife and I pinned restaurants/activities we were interested in on a shared Google Maps folder. It was handy for us to research for the day without using the same device.
Get legit charging/battery packs
We're on our phones constantly to navigate, find restaurants, look up bus/train schedules etc. It wasn't unusual for our phones to die way before we usually would have.
Where I went wrong:
I didn't have a good battery pack on this trip so we have to conserve our battery when we were out and about (a minor stressor)
The charging hub that I bought didn't have enough wattage to charge all the devices overnight.
I have since ordered a better charger and battery pack based on the recommendations by folks in /r/onebag
Cell plans
Coming from Canada, cell phone plans are relatively crazy cheap. Like: 20 gigs for 20 euros cheap. For reference, I pay $70 monthly for ten gigs in Canada.
I initially purchased an eSim from Keepgo that was supposed to cover all of Europe but the coverage was pretty terrible. Once we got here, we bought Vodafone plans I mentioned above.
For the few calls I needed to do back to Canada, I just signed on with my voip.ms SIP account and called from there.
Overall
Going into this trip, I was pretty anxious. We hadn't travelled together in a long time and it was really a big unknown how they would handle the stress of being away from their comforts at home. Having done the trip, it was exhausting, and stressful. However this doesn't outweigh the cherished family memories we have created together, and I can already see some new independance in my kids. It was a lovely time.
.. now I just need to be left alone for a few days to recharge :D