Whiteboarding and Brainstorming as a Remote Team
Collaborating in Real-Time While Working Remotely
So you've accepted that remote employees are, or will become, a critical puzzle piece in your business' success. Yet legitimate concerns remain, encapsulated by the general question: how will I maintain clear communication channels and quality standards without in-person access to employees and co-workers?
It's a fair question.
Research and experience indicate that there are legitimate concerns tied to remote teamwork. Company culture can be difficult to instill in remote employees. Lags in communication can hinder productivity, entire projects, and resulting revenue. And feeling out an employee's capabilities and shortcomings can be far more difficult in an out-of-office setting.
But ever-improving collaboration platforms, visual and otherwise, have closed the gap between remote and in-person communication, minimizing the historical pitfalls tied to remote employment. Some of these tools virtually eliminate the perceived constraints of remote collaboration.
Zoom, Miro, and G Suite are three of the more well-regarded platforms for remote collaboration, with each providing a unique range of tools that become exponentially greater when used together. Their designs and features offer a view into where remote collaboration platforms currently stand compared to in-person alternatives.
Virtual Whiteboarding with Miro
Let's begin with Miro. It's a digital whiteboard (and much more) where users can engage in product development, UX research and design, strategy, and direct communication from a single location. Here's a snapshot of how the Miro web whiteboard looks:
![](Miro Screenshot.PNG)
And here is a video explaining its functionality and features in greater depth.
The interoperability of these platforms mirrors the utility of the Google Docs model, but with additional features tailored to different project types, including but not limited to flow charts, timers, video chat, voting systems, and a presentation mode. Miro eschews outdated whiteboarding and brainstorming methods for a suite of easy-to-use tools genuinely helpful in organizing ideas in ways that are logical and easy to comprehend.
Consider that Miro's collaborative platform offers all the benefits of in-person whiteboarding: real-time, face-to-face communication and the ability to draw on the same canvas without time lags. Also consider that Miro may be superior to in-person whiteboarding, as users don't have to physically jockey over a single whiteboard or attempt to decipher others' cryptic handwriting. Plus, Miro offers a slew of sleek, organized visual tools to choose from.
Miro is equally effective for asynchronous collaboration, allowing users to communicate easily with an entire team, members of a single project, or customized groups of teammates through pinned comments and direct messages. Miro can be integrated with communication platforms like Slack and Gmail to ensure project updates and alerts are seen. Miro has built in templates for:
Mindmapping
Flow charts
User story mapping
Kanban
Brainwriting
Customer journey mapping
Zoom: Video conferencing as good as in person
The second visual collaboration tool I'll talk about is Zoom.
Zoom offers an array of virtual meeting solutions rivaled only by Microsoft and Cisco, according to Gartner's 2019 rankings. Zoom users can choose from different plans that offer tools like virtual video-enabled workspaces, direct HD video and audio chat, enterprise cloud phone systems, video webinars, cross-platform messaging and file sharing, and a selection of apps to pair with the Zoom platform. The ability that Zoom provides for reliable conferencing between several parties is invaluable for remote and hybrid teams aiming to maintain consistent culture and workflow.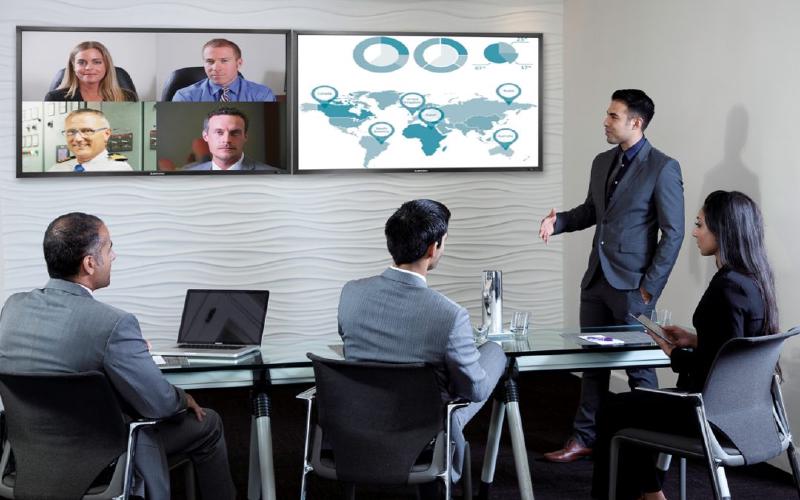 Here is an in-depth testimonial from one company that relies on Zoom. It lends insight into how massive companies – Ticketmaster, GoDaddy, Uber, Rakuten, NASDAQ, 20th Century Fox, Pandora, Logitech, and Dropbox among them – integrate Zoom into their daily operations.
Live Document building with Google Docs + Zoom
Google's suite of collaborative tools contains several invaluable assets for remote teams. Team members stationed in polar corners of the world can simultaneously edit a client pitch on Google Docs or enter critical quarterly data on a Google Sheet without any discernible time lag.
Take the G Suite for what it is: Docs and Sheets are more-than-capable collaborative alternatives to the Microsoft Office alternatives, Word and Excel. Google Forms is an effective way to launch surveys and polls, and Slides is a handy presentation tool for teams working remotely.
But you'll also want to be realistic about G Suite's limitations. Jamboard is Google's version of the collaborative, digital whiteboard. But those who rely most on remote whiteboard platforms have spoken, and Jamboard simply isn't up to par with competing platforms. That's no problem, though — simply take the best of the G Suite (Docs and Sheets, primarily) and pair them with those superior whiteboarding and conferencing products for an ideal experience.
Pairing the range of Google suite offerings with a video conferencing product further enhances the experience of using each. Zoom serves as a prime example of this.
Those interested in combining Zoom's video conferencing features with their G Suite products can do just that. Integrating Zoom into Gmail and/or doing the same for Google Calendar allows users to skip an additional step in connecting with their G Suite partners via video, and it comes at no additional cost. Also consider that using G Suite features like Docs and Sheets side-by-side with Zoom remains an effective way for teams to work in a way that's more human, direct, and truly collaborative.
Picture the G Suite experience without Zoom: you see 'Tim' or 'Tammy' typing on the same document as you, with their color-coated cursor leaving a trail or sentences behind. It's riveting, but you're essentially guessing at what they'll type next.
Now picture this experience with Zoom: you're seeing the same words, but you also see Tim and Tammy's face in the corner of your screen, and you're actively engaged in conversation about why they're thinking what they're thinking and typing what they're typing. It's a far more connected way of collaborating, so much so that it offers all the benefits of being in the room together. You can see their facial expressions, hear their objections, and best of all, you can edit the same Doc or Sheet in real-time, providing immediate feedback that can be acted upon just as immediately.
G Suite Enterprise offers the most in-depth administrative and security-related controls, with pricing starting at a very reasonable $25 per month. G Suite Business will be suitable for many remote teams, with its price tag currently set at $12 per month.
Remote Whiteboarding Doesn't Have to Be Limited
For those who are unfamiliar with technical whiteboarding, it's a process for visually elucidating technical designs and concepts. Engineers and coders regularly engage in some form of whiteboarding, whether during interviews or the course of their work. Once upon a time this process was handled exclusively on physical surfaces, typically a whiteboard, and some still rely heavily on what can be fairly described as dated whiteboarding methods. But early digital collaboration tools like Skype have given way to more sophisticated platforms intended specifically for real-time whiteboarding-type collaboration.
The emergence of collaborative code editing software has taken whiteboarding out of the stone ages, from the surfaces of physical whiteboards onto remotely accessible digital platforms. The effectiveness of these platforms has empowered remote teams to maintain a high standard of communication and collaboration centered around high-level concepts. From the automotive industry to architecture, civil engineering and web design, these whiteboarding-capable platforms have lowered costs while allowing remote teams to thrive.
Highly-regard platforms like ExplainEverything, Cisco Webex Teams, InVision, and BeeCanvas are designed in a manner that coders and engineers will find useful. These platforms offer their unique spin on file sharing, collaborative design and animation, and annotation – all integral features for coders, engineers, and designers working remotely.
In-Person versus Remote Collaboration: What's the Difference, Really?
Now that you've read about some of the best remote collaboration tools on the market, you should consider this: in 2019, remote collaboration can be even more efficient, cost-effective, and enjoyable than completing the same work in-person.
The ability to edit a document or spreadsheet simultaneously with G Suite beats typing out a Word document or entering data into Excel file, sending it to Jim in accounting, waiting for him to send it back, processing his comments and edits, sending it back to him for verification, and so on. Why not view the same file at the same time while you and Jim chat face-to-face about why you're implementing each change? You don't even have to get up from your desk if you're using Zoom or a similar platform.
These tools aren't expensive, and their benefits are immense. You have to ask yourself why your company still uses the whiteboard in the conference room that's been collecting faded Expo marker trails since 1998, when a Google Doc is so sleek. Why are you even gathering in a boardroom when Zoom allows top-notch, face-to-face communication between individuals and entire rooms of people?
Even for those dedicated to maintaining an office (and all of the related costs and hassles), these remote collaboration tools present a potential upgrade in how you and your people complete collaborative tasks. Ask yourself one more question: in light of all of these very affordable resources and their abundance of customizable features, what's the difference in quality between in-person and remote collaboration, really?