2020 In Review
Well, shucks. 2020 was.. (insert random terrible COVID buzz words).
TL;DR:
Started a Covid related business that did well
Rough mental health issues with my family
Ref: 2019 in Review
Business
Professionally, I had both a) terrible foresight and b) ended up to be pretty lucky.
From my review last year, you'll see that I spent much energy developing a consultancy helping organizations build remote organizations. After a year of effort and without finding a consistent growth channel, I decided to changes things up. I had terrible foresight in two ways:
a) Stopped "Building Remote Teams" consulting in Dec 2019 (when the entire world went remote in March 2020) b) Started working full-time for my friend's in-person-event-giving software SaaS.
Galas At Home
I joined Auctria to help with a bunch of stuff. When Covid hit, we developed several features to help in-person galas move their events to become virtual galas. I had pushed to offer a full-service production agency internally. After developing some relationships to benefit auctioneers who loved the software, it didn't make sense to start a service company inside a SaaS company. In May 2020, I split off from Auctria and, while knowing nothing about Gala event planning, began a separate full-service Virtual Galas Production Agency for non-profits. I built a landing page for Galas At Home in a day and started hustling. Rob from Auctria was very generous in his severance and supporting us with licenses to help get started.
Growing Galas At Home
I started buying doing two productions for free to gain experience and some case studies. One of them was for a school in San Fransisco that gave me rave reviews and posted a recommendation in their event organizations group on Facebook. This one recommendation has snowballed to generate around 70% of our business. The rest has come from relationships with Auctioneers I developed while at Auctria and from Auctria recommending us to their clients who needed more hands-on help. Also, after spending much time doing outbound email, and hiring someone to do cold calling, I did get one client from these efforts.
While I have tried other inbound marketing using Linkedin, Google Ads, and Facebook Ads, none have materialized into paying customers.
In having sales conversations with qualified leads, I'm able to close around 50% of them. Here is a sanitized version of my CRM for events.
Building a team
Hiring and managing a remote team is one of my favourite thing to do in a business. Since I didn't have the expertise to manage everything myself, I put together a team of consultants who manage the day to day of the events:
Technical Director - Manages all things livestream, when to show stuff, ensuring all the speakers look and sound good etc.
2x Event Producers - They come from the traditional in-person event planning and work with the client to work through the process and manage all the event details.
Creative Director - She and I work with the client on the front end to build a "run of show" for their livestream that is engaging and interactive.
Graphic Designer - Builds the slides, frames on the livestream etc
My role has turned into doing sales, augmenting our process, ensuring everything is on track and hunting for vendors we can connect with our clients to make their events more awesome.
Galas At Home 2021
In 2020:
We have completed 16 virtual events where 80% of our clients were able to raise at least as much as they did last year. Most are listed here if you see the Galas At Home logo on it.
Since August, I have been able to pay myself a salary making as much as I was when I was working at Auctria, so that's a win.
For 2021:
While we don't know when precisely in-person events will wrap up but it seems likely, 2021 will still be mostly virtual, so I project our sales will still be healthy.
January will be a big marketing month for us to secure more sprint events.
Personal
Morse Code
Despite being licensed in 2005, it's only been in the last year that I have become a lot more active doing amateur radio (callsign: VA3JEV). There are many aspects to the hobby, but one of the most popular ways is by using morse code to connect with others. A few exciting reasons why Morse code is interesting:
Since you're only using a very skinny tone, it's very power efficient so making it easier to reach people further away than using something like voice.
You literally BECOME A MODEM. You're modulating and de-modulating a message using your brain.
Radios that are using morse code and relatively simple, so they are smaller and take less power, making them ideal for biking around the city, throw a wire over a tree and talking with people all around the world.
Using a webapp called LCW0 and over a couple of months of daily practice in 15 minute intervals, I learned the key 40 characters. In November, I managed to have my first QSO (confirmed contact). I recorded the whole, harrowing experience.
See 7:30 for when someone reached back.
A local ham dropped this off for a Christmas present. It was generous of him, and I made a few contacts with it already.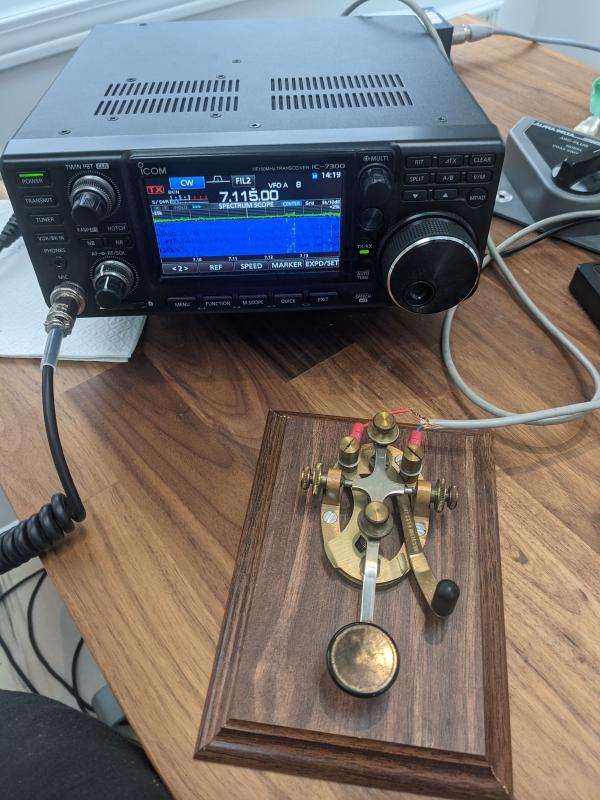 Family Mental Health
I didn't want to write too many details here in case they ever see this in the future this has been without a doubt the biggest stressor in our family by far this year.
As mentioned last year's wrap up, one of my kids has challenges managing their impulses and can get violent. Welp, 2020 exasperated their challenges, and violent episodes became a daily issue. I can't understate how much of a burden this has been on our family. Thankfully, we are now very well supported by multiple professionals from our school board, medical system and pediatric mental health groups.
If you have a child with mental health issues and want to vent, don't hesitate to reach out.
Houseboat Vacation
We wanted to do a vacation with the kids but with Covid we:
couldn't leave the country
needed to be comfortable (we're not campers)
wanted something novel
Since I have some boating experience, we settled on renting a houseboat in the Thousand Islands for three nights. This adventure turned out to be pretty fun for the family but really stressful for me: trying to avoid $500k boats, hunting for docks that were available etc etc.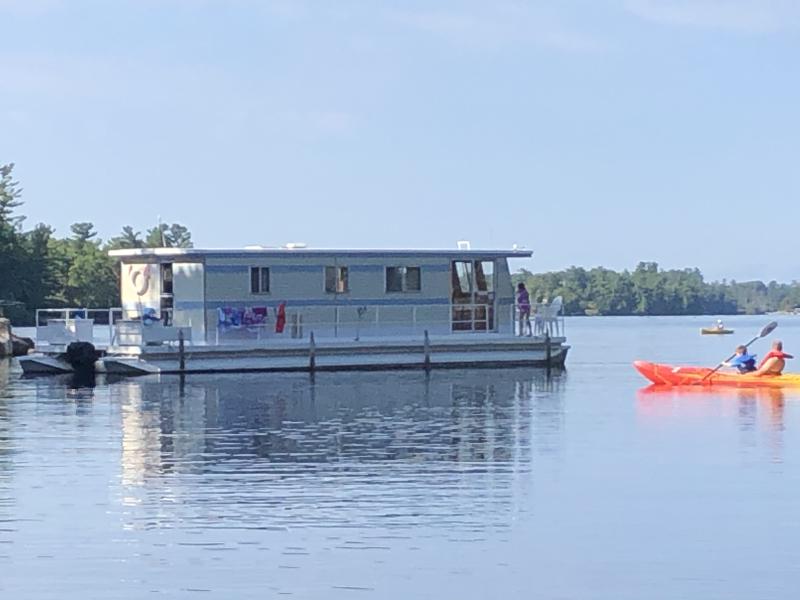 Swim Spa
We ordered a 17' Swim Spa in the spring that arrived in October. We felt it had lots of nice tradeoffs for a cold climate like Ottawa:
Can be used year-round
Easy to install
Significant cost savings compared to a pool
Much smaller footprint
It has turned out to be a tremendous Covid appropriate activity: People show up all ready for a swim, walk around the house (staying outside) and hop in, able to stay 15' apart outside!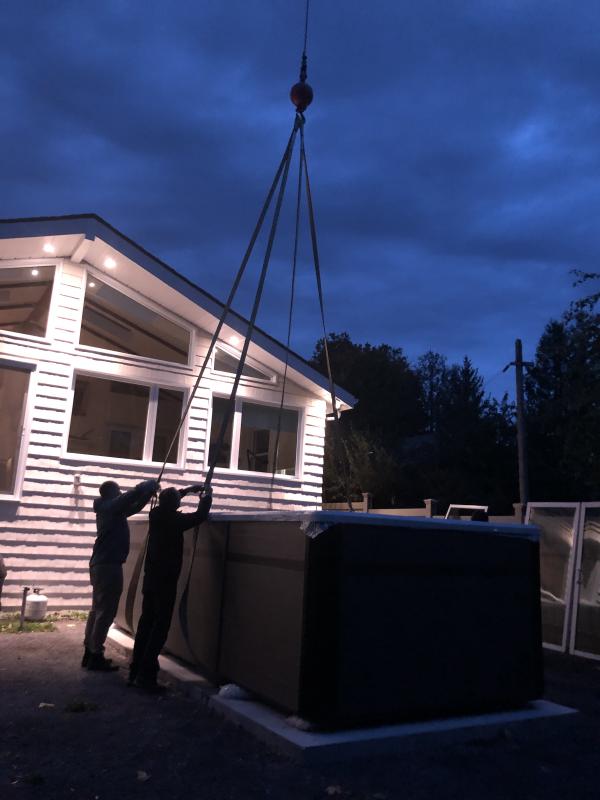 Outside
We tried to get outside as much as we could!