2022 In Review
TL;DR
Renovations took 5 months of my life, but the result is lovely. I'm loving 3D printing and learning about myself through the lens of being neurodiverse with ADHD.
Check out last year's 2021 in review
Fun
3D Printing
For years, I would have a situation every two weeks where I thought to myself:
I could really use a 3D Printer to solve <insert random problem>
Well, I bought one (Prusa MK3S+), took 8 hours to assemble it, and it's been a blast!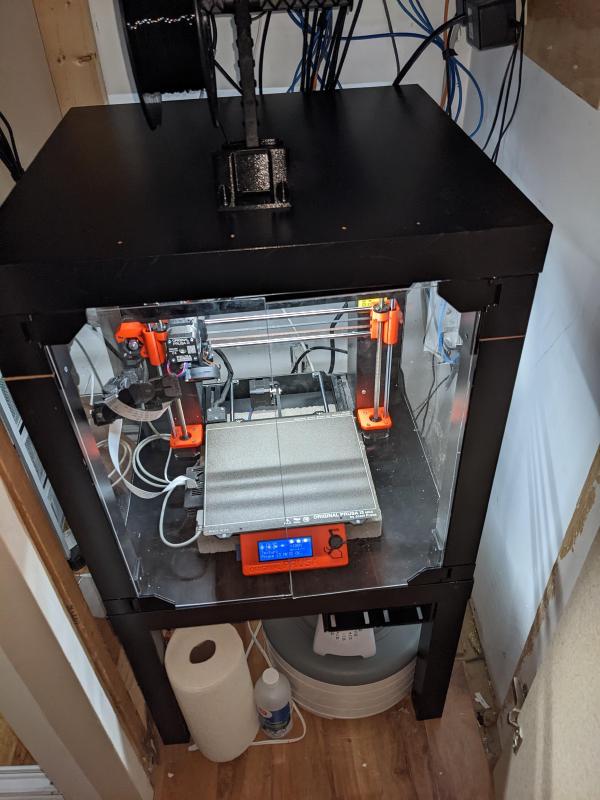 Printing Stuff Others Have Designed
If you need something (broken part, hook, bracket, or whatever really), just go on Thangs and do a search. It's 50/50 that someone would have designed it and shared it already.
My neighbour needed a sous-vide bracket and sure enough, it was there and ready to print. This cost around $3 of plastic:
Old part on the left, with printed one installed: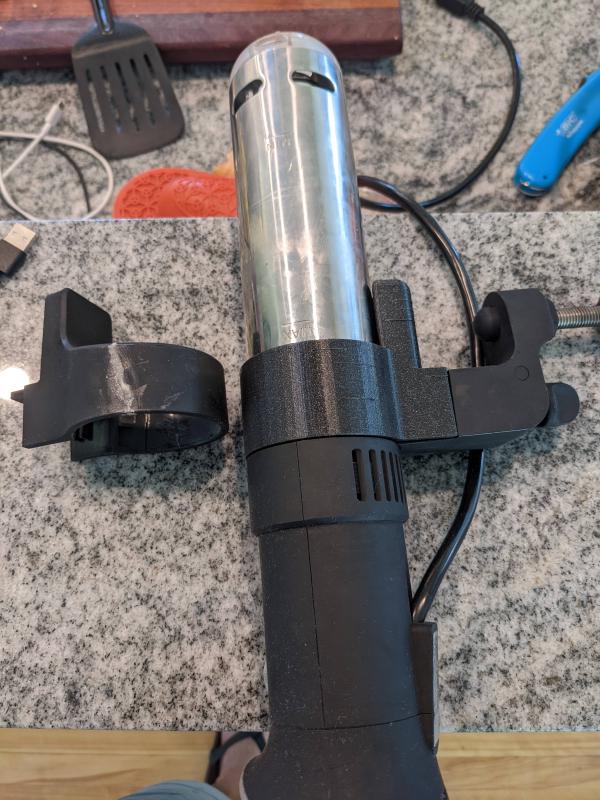 Stuff I designed
I personally designed a bunch of stuff in Fusion360 (awesome program BTW). It's surreal being able to take an idea, draw it up and have it magically appear a few minutes/hours later.
There's a bunch of stuff that I designed and printed, but here's a fun one worth sharing:
Lamppost Bulb Support - We had this lamppost out front that has never had any love. For Ashley's birthday, I wanted to revamp it with fake gas bulbs, clear globes etc. It was pretty ugly: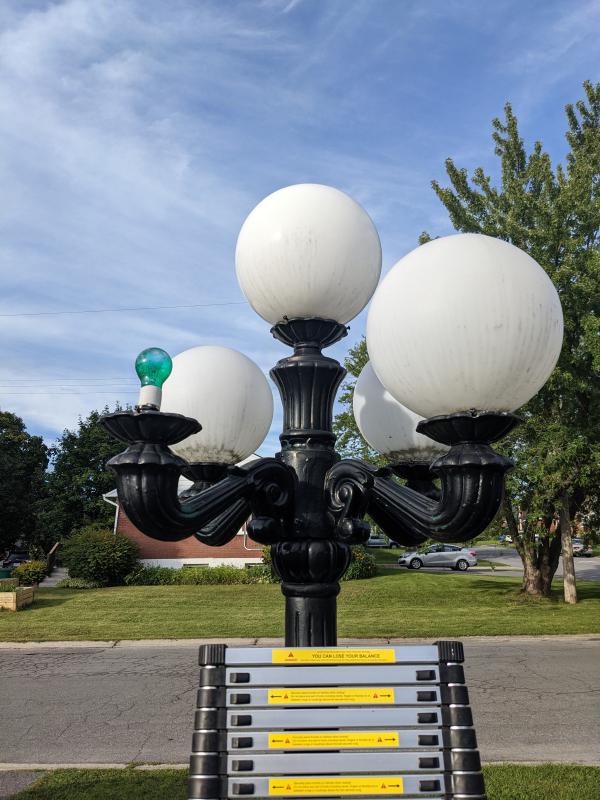 When I opened it up, there brackets holding the bulbs were all corroded and falling off. Taking a few measurements, I did two iterations of designs to make a brand-new bracket. It took me about an hour to design it, and I'm getting faster!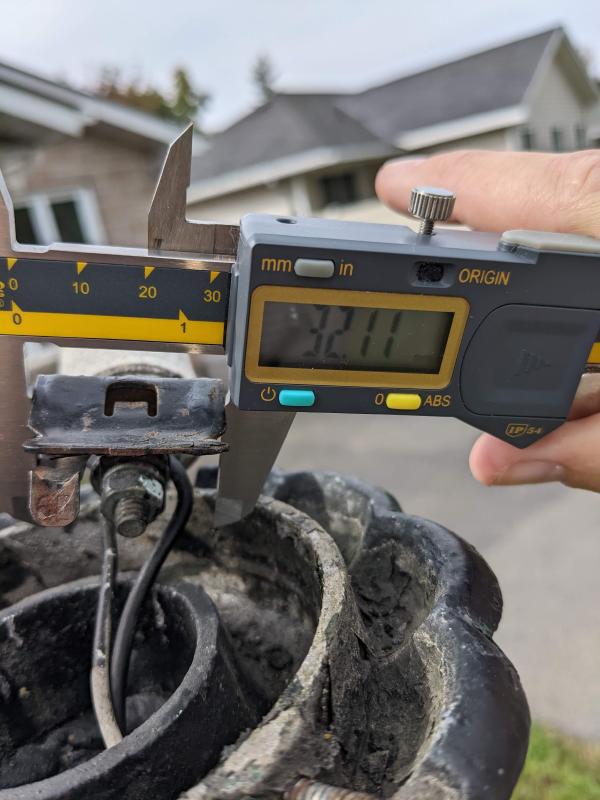 Designed in Fusion360:
With the new piece installed: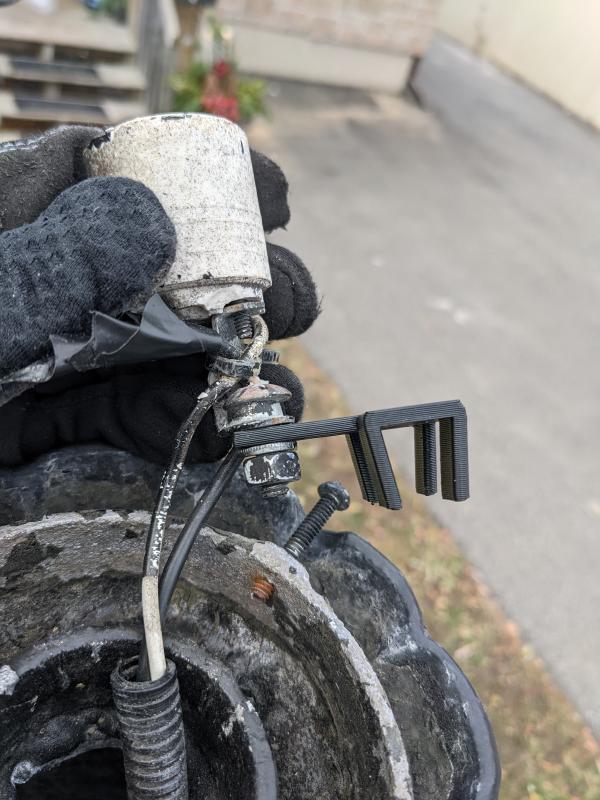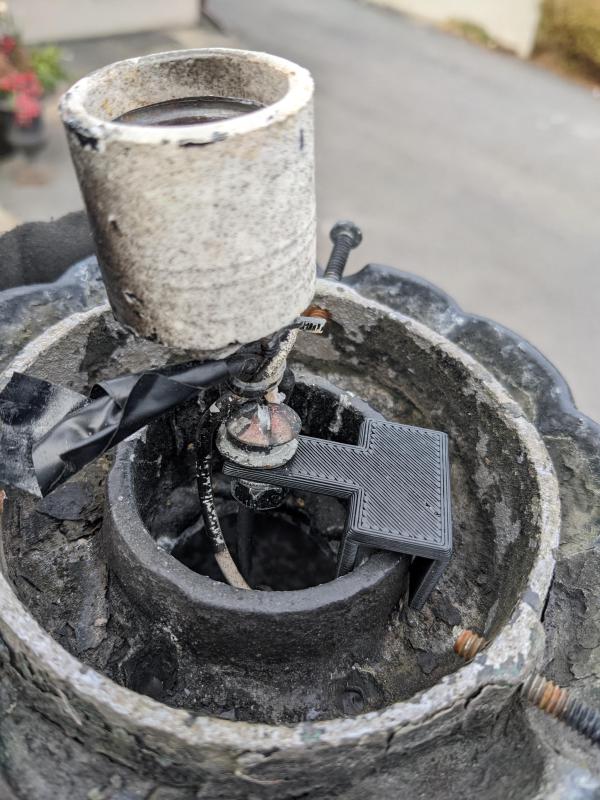 NixOS
Warning: Heavy geekiness below
I've been using Linux has my main operating system for almost two decades. It's always been a chore when I have to do a reinstall and taking hours to set it all up again. Well.. no more!
NixOS will basically rebuild your entire system using single file that defines every part of your desired configuration. Whenever you want to install some new software, or tweak a setting, just update the file and compile it to rebuild your system. Then, you can just backup that file and use it on any other machines you you want to set it up.
I've contributed one package, and plan to do more as I see they are missing.
I now have a consistent setup for my work and personal machines that are always in sync. My setup is public if you're curious how it all works.
Workbench
You want to know a sucky first-world problem? NOT HAVING SPACE TO BUILD YOUR PROJECTS! iSn'T tHaT tHe wOrSt?
I only had a small 1.5'x1.5' space next to my 3D printer to do my soldering and assembling of stuff. I realized not having space to do project work was really limiting how much I could do. Goals in a new bench:
Organize all my projects in boxes that I could quickly pull off the shelf, make progress and put away. That way I could make progress in 30 minute spurts as I had energy/time to get things done.
Having 80% of all of my tools and materials I need in place and in arms reach.
Put it in an underused space on the house (my son's closet)
Design
I don't have the equipment to build stuff with wood, so I went on the hunt to find alternative construction material.
Somehow I came across this guy who designed a built a workbench using extruded aluminium. I had never heard about it but it seemed like the perfect solution!
I could design it how I wanted.
If I wanted to change it up, I could change the configuration and reuse the pieces
All the pieces could be precut, and I could assemble it all using hex key.
With my newly learned Fusion360 skills, I designed the bench, I just measured each segment in the software, built a spreadsheet (BOM - Bill of Materials), and submitted it to a local supplier.
Two weeks later it arrived: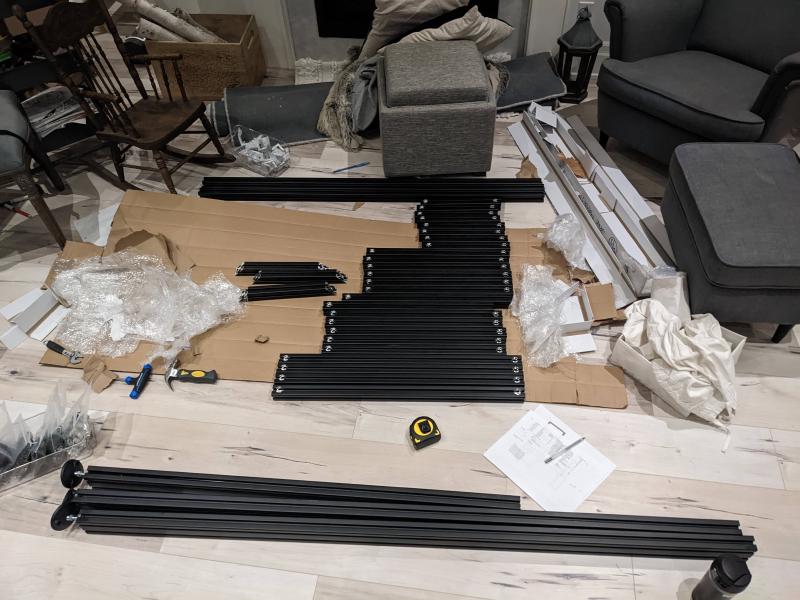 Two hours of assembly later: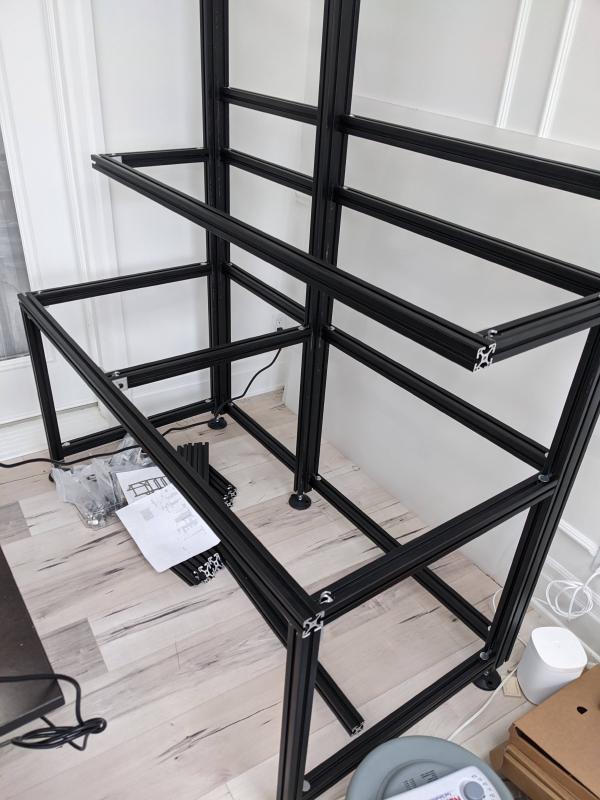 For a table top, I was just going to use some cheap melamine, but my buddy Jamie offered (couldn't stand I was going to use melamine) to make my table tops out of Baltic Birch and Formica melamine. WAY better. Thanks Jamie!!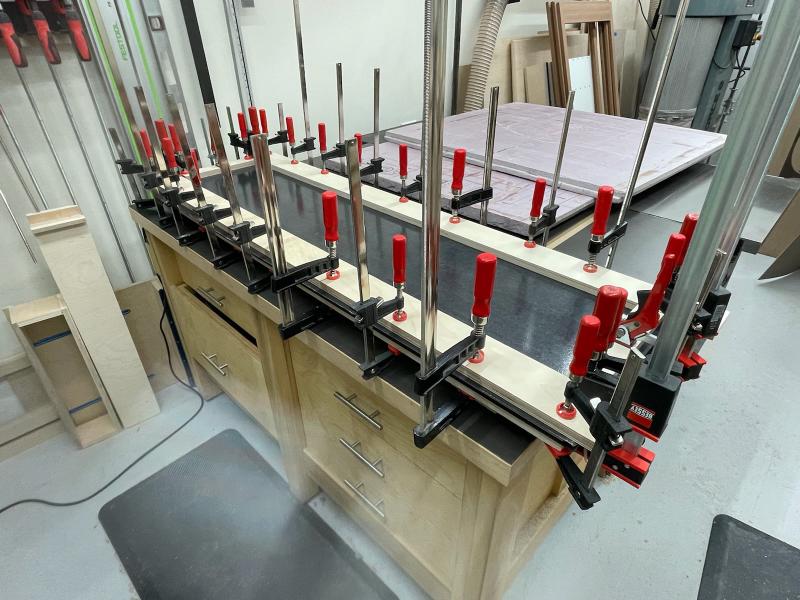 With bling! (QuinLED + WLED + BTF-Lighting LEDS)
Kitchen/Main Floor Reno
In February, we decided that this year was the year to redo our kitchen. Renders and measurements from my architect/interior designer on Upwork (in Turkey!!) to help us figure out how to make the space functional (to make Jevin happy) and look good (to make Ashley happy). Having this person in our corner helped us find a TON of little details we never would have thought of. They prepared a PDF with 3D renders to help us visualize how it would look.
I'm the general contractor for all my projects, so I have to work through organizing the trades, problem-solving the details and picking up/ordering materials. What we didn't expect is that it would take six months of almost every morning, lunch and evening to work through the details. It was such a painful grind, but we are thrilled with the end result.
Due to structural issues and drama with engineers, it turned into a "main floor renovation" instead. This was our life for two of the months: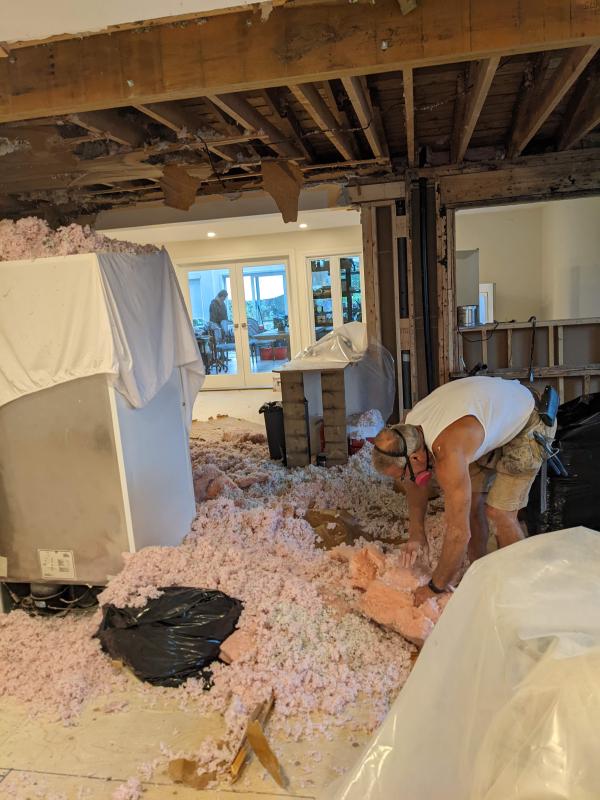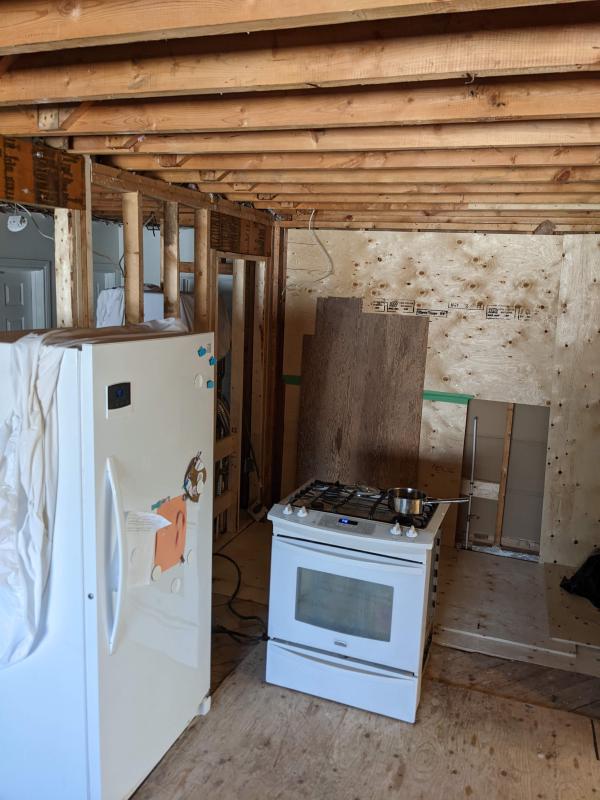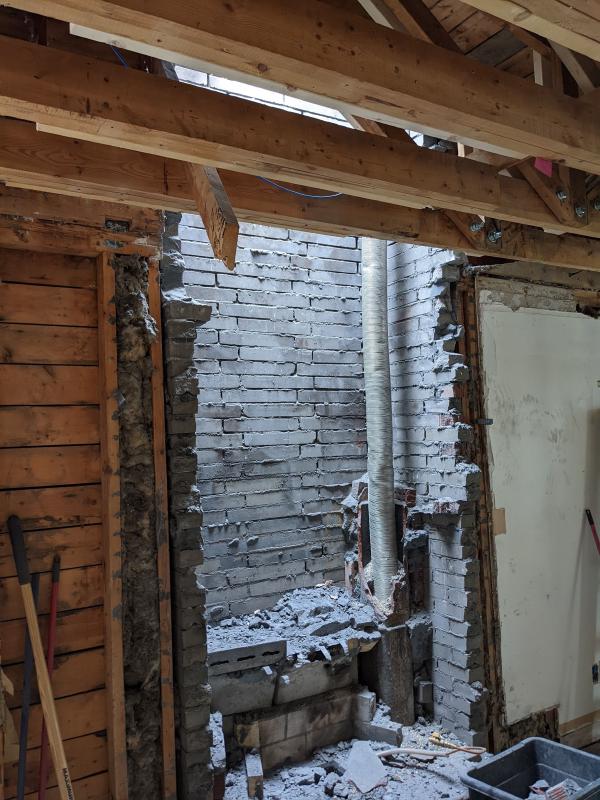 Here's the (mostly complete) version: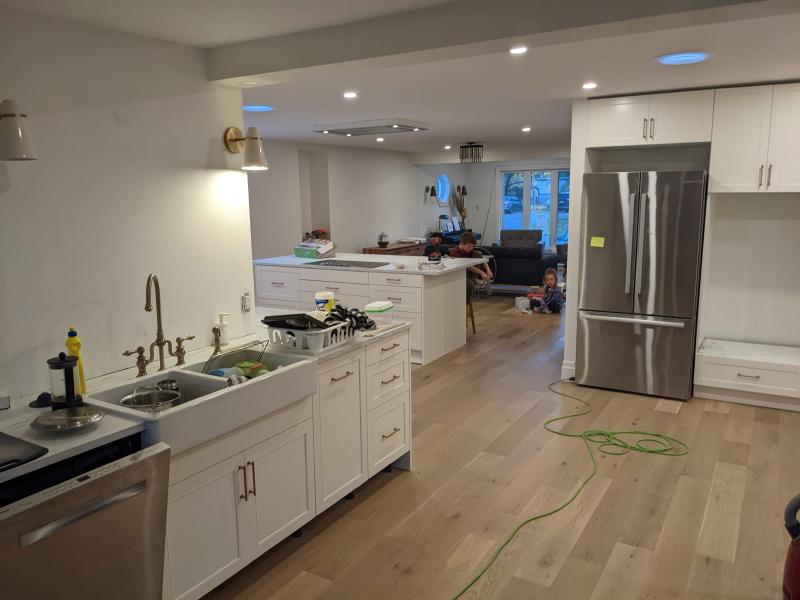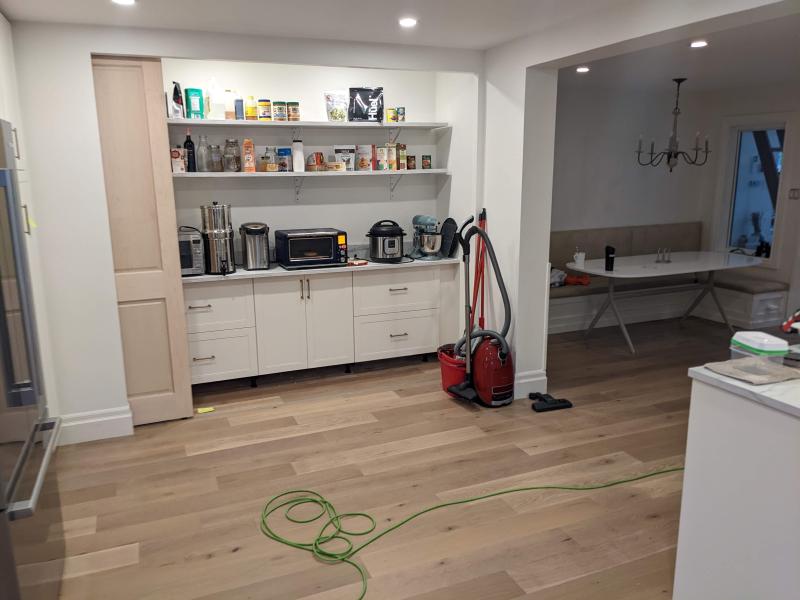 There are still a few things yet to do but we're in great shape.
Personal Growth
Working with an Executive Coach
Towards the end of 2021, I was feeling that there were blindspots in my professional life and certain themes that kept recurring. Nothing major but enough that I could use someone to help me dig through it.
I hired Eric who was the former Chief of Staff at Google search ads. There are many things I appreciate from this guy! Here's part of my testimonial I sent to him a few weeks ago:
You are masterful at pulling ideas not just from your own experience, but also from the best-in-class books that you read. Being able to synthesize ideas from multiple sources and to speak into a particular situation is particularly powerful.
There is no question having him in my corner has really clarified my work as a leader professionally, but it my personal life too.
ADHD
Last year I wrote about discovering my ADHD diagnosis. It feels like every week I'm discovering something new about myself, or how my neurodiveristy played out for the past 40 years of my life.
Here are a few:
Intense with others - When there is a problem to be solved in front of me, my brain gets really engaged because solving problems is stimulating! When I'm in a meeting with folks, this causes my voice to get louder, and I get more animated. People that know me can recognize this as me being "passionate" or "excited", but those who don't can see it as "defensive" or "intense". I'm learning how to moderate my energy depending on the situation and audience.
More intense feeling of rejection and justice - Most of my life I've been told "you're just more sensitive than others". While that might be true, I think this could just be part of my diagnosis. There is some research that taking negative feedback really hard is a real thing for ADHD folk.
I'm insanely organized - Most ADHDers I know embrace the chaos that their working memory sucks (so many distractions!!) and roll with it. Looking back at my life, I don't think I know anyone who has more sophisticated organizational systems than I do. When I was in high school, one of my favorite days was getting the agenda for the year and getting it organized. It's amazing how I intuitively knew my working memory was so poor, that I have to build systems around me to be a productive human.
Sleeping Straight Through the Night - For all my life, I would wake up in the middle of the night, often times for an hour or two. With my medication getting my dopamine levels normal, my brain doesn't need to think about random stuff at night trying to hunt for stimulation. Life changing!!!
If you're suspecious you have ADHD, or think someone else does:
Watch this lecture from one of the top ADHD researchers: Dr. Russell Barkley ADHD Lecture
Talk to your family doc.
Hitting The Gym
Now that I sleep straight through the night, my natural routine is going to bed at 10:30pm and waking up 7 hours later at 5:30am without an alarm and ready to party.
In January, I realized I had this all extra energy available that I never used to have with my terrible sleeps. I thought maybe now I could start exercising again. I started going to the local Fit4Less to restart my Stronglifts routine, and it's great! However, when the brutal-energy-sucking-home-reno started, I had to stop for the back half of the year. With that behind me, I'm now planning on starting back in the new year.
30 Days of Twitter
Marketing has never been my strong suit so I thought it would be fun to try to explore developing a voice/audience on the interwebs. For January, I joined a Ship30For30 cohort which was a lot of fun! I would get up, write for 45 minutes and publish something pretty much every day!
My Twitter has a whole bunch of my threads that I wrote.
I was hoping to use Twitter to meet new interesting folks but I quickly discovered the amonut of attention I would have to give Twitter to engage with others was more energy than I was willing to invest in it right now. Maybe there will be another channel that is a better fit.
Family
Netherlands and Portugal Trip
This was the highlight for the family this year for sure. I have a whole post about it here
Everyone is getting older
The Days Are Long, but the Years Are Short
As the kids grow older and become more independent, and with my new-found energy, it's easier to be able to enjoy my time with them. There are now more days when I would like life to slow down, so I could enjoy stuff with them. Only a few years ago I was hungry for time to needing to retreat from EVERYONE just to recharge.
How I did on my personal goals from 2021
Let's see things plaid out based on . what I thought I would do last year
(done) Joining Humi.. still fun!
(done) Ship30for30. I did it!
(good) Don't overthink my hobbies - I embraced my limits and just did stuff as I felt inspired.
(good) Exercise - I did more than I've ever done in my life. I got off the train because of the renos but I'm planning on getting back to it shortly.
(okay) Date nights - Maybe once every two months on average. This is a good reminder to do more of this.
(didn't work) Family retros - We did three of these but it is really hard to stop and take the time to reflect as a family. This didn't really catch on. We have found that our family dinners have been good times to reflect together.
Looking Forward to 2023
House Concerts - One of my favorite things to do is host house concerts. We had to stop them when Covid started, but I think it's about time to bring them back. There are some great platforms to connect hosts and artists that have developed over the years, and I'm ready. We made a promo video about it a few years back:
Exercise - I'm all setup to hit the gym early in the morning, or jump on my roadbike connected to the Zwift in my bike if I'm in a pinch. Very little excuse here apart from de-prioritizing it.
Teaching - I really enjoy running my Remote Skills for Engineers workshop with O'Reilly. The response from attendees is in the top tier of instructors and they have asked me to take on run some other workshops. I'm also exploring running a cohort based course on Engineering Leadership with Maven.
Want to chat about any of this stuff? I'm always happy to chat. Hit me up! jevin@quickjack.ca.
Have a great 2023 y'all!